Climate change and TrafficQuest
During the 'International Conference on Surface Transportation System Resilience to Climate Change and Extreme Weather Events' of the TRB in Washington DC senior advisor Kees van Muiswinkel of Rijkswaterstaat presented the TrafficQuest publication "Traffic in the Netherlands" to Monica Starnes. Monica was very interested and would give a copy to her colleagues at TRB. Monica is a senior program offices and is the manager for the TRB activities related to transport policy, climate change and resilience, sustainability and socio-economic affairs. Climate change resilience is not a topic for TrafficQuest, but certainly it is for her partners. Obviously, Rijkswaterstaat is very involved, but also Delft University of Technology, which investigates for example evacuation stategies and the role of traffic management. TNO is involved in the National Adaptation Strategy.
Traffic in the Netherlands 2015
At TrafficQuest, we hope to ensure that the Netherlands maintain its leading position in the field of traffic management. We contribute to this by collecting, analysing and disseminating knowledge. We do the latter in our reports, articles and recommendations, but of course also with this annual report Traffic in the Netherlands 2015.
Impacts of traffic management (May 2015)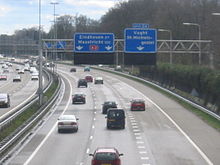 Since 2008 an overview exists in which the results of (almost) all assessment studies for traffic management in The Netherlands are summarised. This is an important source of knowledge related to impacts of traffic management and is useful for policy and operations. TrafficQuest has updated this overview with the latest results and it contains now the research of 190 reports. The references of these reports are given in the de reference list. As usual, the number are contained in tables, given in this overview. Both are in Dutch.
Failure rush hour lane system A1
On Tuesday morning November 4th, 2014 a failure occured in the motorway management system near motorway junction Hoevelaken, causing the rush hour lane on the A1 between Hoevelaken and Barneveld to be closed. The rush hour lane could not be used during the evening peak leading to heavy congestion in the neighbourhood. Rijkswaterstaat wanted to know what the effects of this failure were on the traffic operations in the area. Detours were implemented, but still the queues were longer than normal. A system failure like this gives extra delay and Rijkswaterstaat wanted to know the size and the costs of this extra delay. TrafficQuest has done a quick scan analysis (in Dutch) with the available data. The costs turned out less than expected. But nevertheless Rijkswaterstaat will check and if necessary improve the maintenance process.